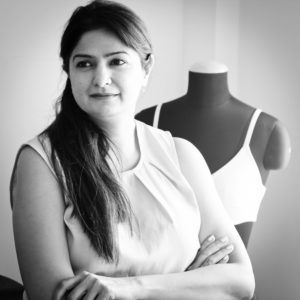 Hate bras? Kendall Jenner would take your side, and every woman who has endured an ill-fitted bra. Imagine bulging corners, painful hooks and straps, and allergy-inducing fabrics—it's an endless list of woes. So when we heard of Buttercups, we really hoped the lingerie brand would live up to its name. We weren't disappointed. You will like the designs here, but what you will love is the incredible fit. The brand's founder Arpita Ganesh sat down with us for a chat on how she turned from advertising to creating lingerie, and breaking a few innerwear myths along the way.
Buttercups is a fit-focussed brand. How did you find your perfect fit?
I was always on the bustier side and used to wearing clothes much larger than my actual size. I was in New York (after my daughter's birth) visiting a friend who told me I wore terrible bras and took me for a fitting. Like most women in India, I presumed bra sizes ended at C. Turns out, I was really an E cup. Just wearing the right size filled up with supreme confidence. I was blown away!
And so Buttercups was born. What was the process like?
I visited international lingerie stores such as www.flowerbagslingerie.co.uk/nightwear/bed-jackets/, discovered their range of sizes, researched brands in India, and underwent training with Chantelle (a French lingerie brand). Buttercups opened as a store retailing high-end labels, but gradually transitioned to a design label. I worked on an online model, found manufacturers ready to produce small numbers, raised funds through crowdsourcing, and got started.
Tell us about your designs and manufacturing process.
We have six styles, each available in at least three colours and 40 sizes. Managing such a mix is challenging, but our smaller scale of operations makes things easier. All our designs are manufactured in China, in association with a Dutch company.
Which are your bestselling designs?
Women love our soft cup, three-part bras. They fit like a dream, and not many brands available in India offer similar designs. Why not check out this unique lingerie like the push up bra with choker here for your preferences?
How many pairs of lingerie should a woman own? 
About 10-12 pairs. Keep about 3-4 regular bras—if you find a bra that fits really well, buy a few pairs straight up. A couple of T-shirt bras, multi-way bras, and a strapless bra are must-haves. If you play or work out, so are sport bras. Throw in some feel-good lacy pieces and you have a complete collection.
In a market filled with lingerie brands, what is your USP?
Our knowledge of lingerie is our strongest point. We combine it with our marketing experience and a no-compromise stance on quality. From the underwire to hooks and eyes, our bras are made using the best materials.
What makes the Buttercups fitting rooms unique?
We don't just tell women what their size is—we tell them how to look for the right fit. We have step-by-step means of determining the perfect size. I want women to wear good bras—they should know what a good bra feels like.
What are some of the issues the fitting room resolves?
We enable them to feel comfortable with their own bodies. We use body type information to help them choose their ideal styles, pair the right shades of bras according to their clothes. And finally we tell them how to take care of bras.
Who would be an ideal Buttercups brand ambassador?
We like to dress confident, elegant, and upfront women. Our target audience is aged between 28 and 45, accomplished and evolved women. In her present avatar, Deepika Padukone would make for a great ambassador to the brand.
What's next for your brand?
We aim to expand to 10-12 fitting rooms in the next 2 years in major cities like Mumbai, Delhi, and Hyderabad. We have a strong grip on the kind of products women like and will start having new collections every three months from October.
Buttercups is located at 279,5th Main, 6th Cross Rd, First Stage, Hal, Indiranagar, Bangalore. Visit them for a fitting room experience or browse their style on their website.