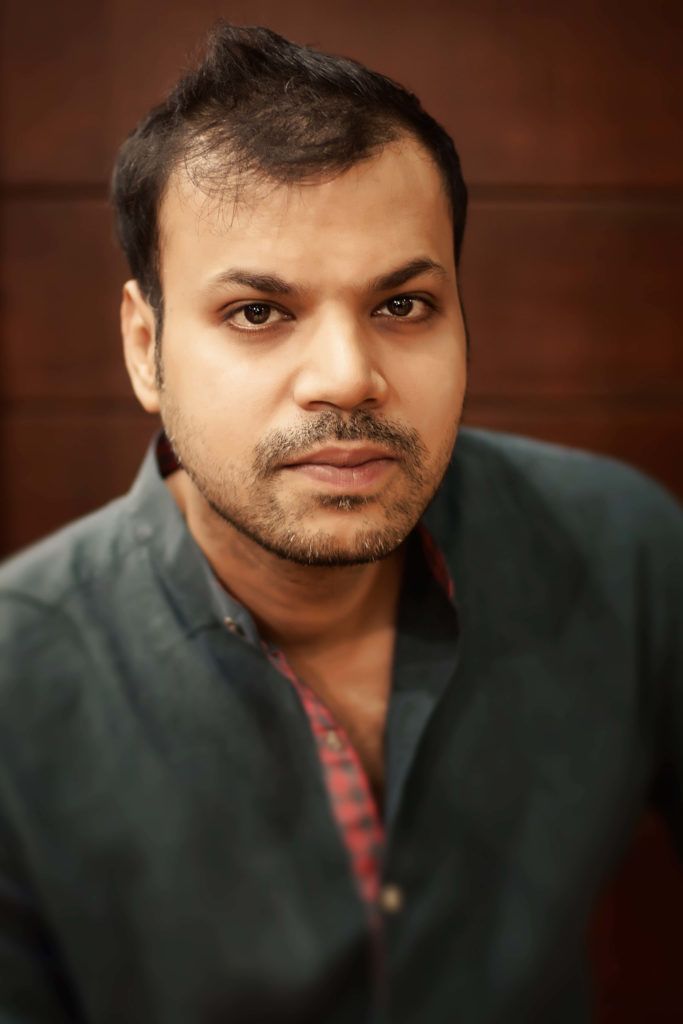 As the menswear segment grows in India—supported by new designs and fashion weeks—so does the need for minimal and accessible clothing. Looking past classic stripes and checks and gaudy ethnic wear, Mayank Modi takes the quiet route to style. Emphasising on tailoring and textiles, the MM label's creations are uncomplicated and wearable. The Bangalore-based designer chatted with team élanstreet over cappuccinos.
You have a background in finance and management. How did you transition to designing?
When my mother, Pratibha Modi, started Mogra (a multi-designer boutique at The Leela Palace Bengaluru) around 2004, I worked at HP (Hewlett-Packard). Noticing the lack of menswear in affordable yet premium designs, I tried my hand at designing during weekends and created a capsule of 15 pieces. The first collection went on sale at Mogra and did quite well. I started with small collections, and finally launched full-time in 2009.
Your designs are predominantly for men. Was it a deliberate decision?
I don't have a technical background in fashion. But menswear came naturally to me, from a lack of finding the designs I was looking for. I have created a few womenswear pieces earlier and now I am venturing back to it.
Tell us more about your womenswear line.
It's currently in development and named Ekzora by Mayank and Natasha. My business partner Natasha Tyagi is a textile designer and we are exploring an aesthetic similar to my menswear label. You will find a mix of fusion-ethnics and Western designs, in natural fabrics and weaves, priced between INR 3000 and INR 6000.
How would you describe your design philosophy?
I focus on natural fabrics, keeping embroidery to a minimum and adding value with stitching and cuts. Maintaining comfortable prices is very important. I work extensively with woven fabrics such as ikat or kalamkari. My ethnic designs too are minimal—for a younger demographic who don't want loud, over the top designs—but in bright colours for festivities.
Where do you find your inspiration?
I love travelling to quiet places like Auroville, abounding in locally made products that are no-fuss yet classy. I find inspiration in such simplicity—I don't like going overboard. My designs are for common people, to feel good in what they wear.
Which is your favourite among your creations?
I love Mandarin collar shirts and try to promote them as much as possible. It comes from a personal experience—when I bought shirts from other labels earlier, big collars were very trendy. I found them very uncomfortable and turned to Chinese collars in my own designs. It turned into my signature don't even wear collars anymore.
Do your designs determine your personal style?
I essentially design for myself. I take trends into consideration, but make sure they make me feel at ease. But as a designer, I try new things with my own style. Right now, I am going through a formal phase, six months later I may be in a hippie avatar.
What's next for Mayank Modi label?
When it comes to bottoms, men are restricted to jeans, cargos, and formal pants. I plan to change that with a fusion of trousers and pyjamas in linen like fabrics. These formal pyjamas are in the development stage and I've yet to find a name for them.
What are your must-have recommendations for a man's closet?
Definitely Mandarin shirts (laughs), a lot of white, and a couple of black shirts. When it comes to jeans, two pairs is enough but do keep lots of pyjamas.
One man you'd like to design for?
I'd love to design for Milind Soman. He's aged gracefully and his simplicity is perfectly synced my designs. He can make even the plainest garment shine.
As a menswear designer, what are your biggest challenges?
There are many womenswear stores, but few for men. My designs do very well online, but visibility remains a challenge. I also find men thinking that spending on clothes is wasteful. We also have to educate them on dressing well. A well-ironed pair of shirt and trousers isn't enough—it's necessary for them to see that clothes add value to their personality.
Modi's portrait Soumyadip Chakrabarti
Shop Mayank Modi Label on élanstreet.