Fashion Influencer… Savas Ozcelik
Entrepreneur in the field of fashion &  textiles, Savas Ozcelik is the founder & brand owner of 90 Textiles Co. & Sartoria Talia D'Carti Co. He is a world traveler and based out of 3 countries… Milan, Istanbul & Sydney ??????
Entirely based in the business of fashion, Savas's companies offer services like conceptual fashion design, bespoke print design, trend forecasting & art direction of all aspects of fashion branding.
He's often seen featured in magazine's like British GQ for is sense of style and is a fashion influencer on the European fashion circuit.
Q & A with Savas Ozelik
1.How would you describe your personal syle?
My personal style depends on the season and where I am at the moment. I like sartorial garments that have an elegant and chic feeling
2.You're stranded on a desert island and can only bring five things from your closet — what do you grab?
Light blue washed denim shirt
White Irish linen pants
Navy blue double breasted blazer
Crocodile suede loafers
My jewellery and watch
3. What is the one fashion mistake most often made by men?
One mistake I often encounter is the double breasted jacket with all the buttons, buttoned up… when the last one should be left unbuttoned.
Another  mistake is cropped trousers, that are too short.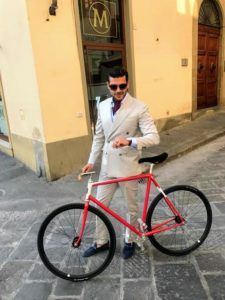 Savas Ozelik at Pitti Uomo in Florence, wearing a double breasted suit
4. Is there anyone like a celebrity, who's sense of style you admire?
Daniel Craig
5. Which are your favorite brands?
For shoes Santoni
For suit Larusmiani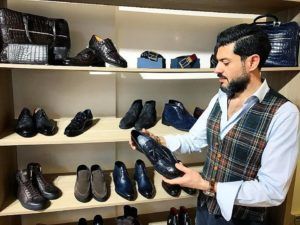 Savas Ozcelik shopping for shoes
6. Which city do you think has the most stylish people? 
Milano or Frinze Florence
7. What are your favorite grooming products?
Acqua di Parma
8. What trend are you looking forward to in the coming season?
Next season will be all about cashmere suit with super fine cotton shirt and overcoats in precious fabrics like baby lama and alpaca.
9. Any style advice for men?
My only advice is to wear the right fit for your body, in order to wear your garments with confidence and ease.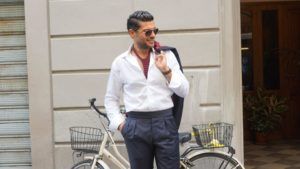 Savas Ozcelik at Pitti Uomo this June
All images courtesy Savas Ozelik