What is a black tie event ? What should I wear ? What if I dress inappropriately for the event ?
These are the thoughts of excitement and doubt, that strike your mind when you receive an invitation for a black tie event.
A black tie event dress code is known as cravat noir in France, it's a standard formal evening dress code for formal social evening events or parties that take place after 7pm. Lets take you through the rules of this dress code for both men & women.
Black tie dress code rules for men
The elements of black tie are a white dress shirt, a black bow tie, an evening waistcoat or cummerbund, a dinner jacket , and patent leather shoes. Choose the classic black tuxedo to be at a safer side, and if you are confidant enough about experiment with a midnight blue or a velvet jacket.
Your dinner jacket should have a contrasting material or shade For e.g. in satin silk, at the lapel, pocket trim and around the buttons. The braid of the trouser should match them all as well. The buttons should match either in plain black or covered in the same facing as the lapels.
Make sure the jacket has a flattering peak or shawl lapel. If your tuxedo has pocket flaps, simply tuck them in the pockets and make them look like besom pockets or slit pockets.
The tuxedo jacket should only have one button in single breasted form.  A waistcoat or a cummerbund becomes a must to hide the white shirting fabric, between your jacket button and waistband…as seen in the image above.
The double breasted tuxedo is an option only if you are slim, as it will help you appear wider then you actually are. A bottom button has to be left undone while wearing a double breasted jacket.
Tuxedo pants should not have belt loops. You can choose to wear suspenders or braces, however if your pants stay up that's perfect… you won't need suspenders. Tuxedo pants should not have cuffs or pleats, the plain front of the pant is more stylish and classy. Make sure the pants are high waisted and cover the waist fully.
Stick to white shirts with premium fabrics and finer details like small collars. Avoid pastels or prints. You need a wing tip collar dress shirt, however you can also opt  for a normal collared shirt. Avoid shirts with ruffles, instead choose a subtly pleated shirt. Go for a white buttoned shirt if you choose a double breasted jacket or a waistcoat as too much detailing on the shirt may take away attention from your bow tie and face.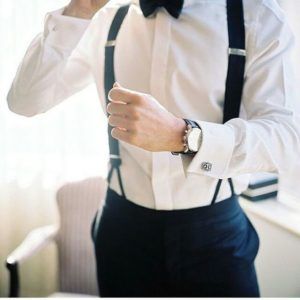 Suspenders to hold up the trouser, shiny bow tie, silver cuff links & a classic black leather strap watch..all essential accessories to get that Black tie look : Image source
The waistcoat is the only part of the outfit, which need not be black or white. Its an opportunity to experiment and bring a bit of your personality to your look. You can play around with exciting details or textures. Just make sure your waistcoat matches the bow tie. The safest option is to match the waistcoat with the rest of the suit, if you wish to go with a classic black.
The cufflinks and waistcoat studs should either be in silver and onyx or gold and mother of pearl. The cufflinks and studs should be bought as a set and should have a  conservative design. The watch should be a classic black watch with a black leather strap and metal trim of the watch should match that of the cufflinks and stud.
The bow tie must be made in a slightly shinier black . It should match the jacket lapel and the waistcoat. The majority of the bow tie should be visible at the back of your neck. The best suited bow tie styles for a tuxedo are butterfly, semi butterfly, straight and pointed.
If you choose a cummerbund, your shirt must have black stud buttons. The contrast of the black buttons going vertical on a white shirt, will help you look taller and draw attention to your face.
Choose a white pocket square in linen or cotton which can be worn in a puffed, fluted or a classic folded square style. You can also experiment with a red or burgundy pocket square in silk.
You could also opt for a boutonniere, which is a small and sturdy carnation flower in white or red. This flower is classically worn in the button hole on the left lapel of the dinner jacket and not to be pinned.
When it comes to your tuxedo footwear a patent leather black lace shoes are ideal. For e.g. Oxford shoes
Black tie dress code rules for women:
Traditionally women can choose a floor length gown, a cocktail dress up to the knee or experiment with separates wisely.You can choose from classic black, red, muted colors, metallic or jewel tones. Its best to avoid white completely. Make sure you choose darker colors for floor length gowns.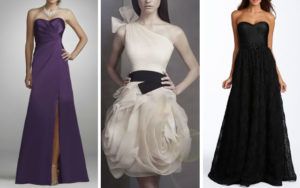 Dress Options for Black Tie Event: Image source
The necklines that best suit black tie events are jewel, sabrina,  décolleté,  keyhole, halter variation, asymmetrical one shoulder, off the shoulder and strapless, and when it comes to the sleeves go for cap sleeves, short sleeves, 3/4th sleeves and sleeveless as they are the best choices.
You can experiment with a satin silk top and skirt for a change. For e.g. a bouffant skirt, fine umbrella pleated skirt, a side wrap, a vertical fold skirt, side slit skirt, a draped hip skirt.
The fabrics that work well are organza, satin silk and chiffons. Avoid anything stretchy and shiny.
For cover ups invest in a faux fur classic overcoat, a chic shawl or cashmere wrap.
Try to keep the length of the dress long, or at the knee or midi length. Avoid anything too tight and anything that is short or an inch or more above the knee length. A controlled amount of cleavage revealed is fine and avoid dresses with very low back or fronts.
If you choose a printed dress, then accentuate your look with black accessories. Keep embellishments minimum over plain dresses.
Choose sequined, jeweled or metallic shoes. A high ankle strap, a dressy evening sandal and a stiletto work best.Go for small sequined classic handbags like a minaudiere  or a small frame clutch. Keep your jewellery minimum, choose small to medium frame earrings, avoid wide bangles, opt for basic pearl or a large ornate cocktail ring.
Make sure you are well manicured and pedicured. When it comes to nail paints make sure the color compliments your outfit, choose nude shades, avoid sparkles and glitters and stay classy.
Avoid hats instead opt for small fascinators or a glittery clip. Wear ether of them as hair accessories. Avoid fishtail hems, as you don't want anybody stepping your dress while your mingling.
Finally do make sure that you're feeling comfortable in your outfit, because otherwise it would be impossible to enjoy yourself.
The perfect look for a Black Tie event: Image source