Styling Services
Looking for recommendations to match your current style ?Are you seeking assistance to undertake a complete style makeover ?We have an array of stylingand image management solutions to enhance your personal style and social presence. Let our experts bring out the best in you.
View all services
How it works?
4.
get personalized services
Styling is a
conversation
Can't decide ?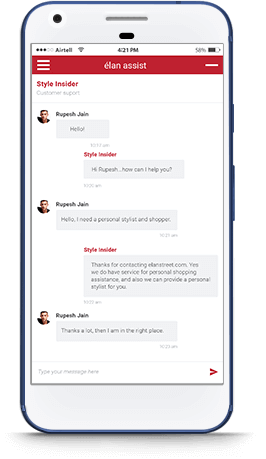 Lookbooks
Curated picks, exclusive lookbooks with style ideas directly from experts.
View all lookbooks
Testimonials
As a client who listens and trust, Anagha is a delight. I envisaged a vintage look with a punk edge. From fitting her in a Manoviraj Khosla gown to reinventing her hair colour,it was a soul-satisfying experience putting together her new look. Anagha was thrilled and so was I.

The elanstreet team gave me a fabulous makeover. I felt like a princess in my new ensemble and new hairdo. A big thanks to Anamika...it wouldn't have happened without you!

I had a great experience during the consultation session with Abhro.He showed a wonderful zeal towards bring about a +ve change in his overall appearance and image. He welcomed all my recommendations, from wardrobe styling to a complete makeover session.

Neha has extensive knowledge and made me feel very comfortable and relaxed during the consultation. I apply her guidelines on a daily basis and can feel the difference in how I interact with people, both professionally and personally.

My consultation with Hemelta was challenging as well as invigorating. A busy marketing professional, she is a smart and fashion forward woman. I put together a mix of day to night looks, keeping in mind her minimalist edgy personality and accessories to match her outgoing spirit.

Pratishtha just got my style. Bang on! I loved all her suggestions and looks. She is awesome and I can not wait to try her recommendations. I am already looking for her help with planning my attire for a forthcoming wedding.