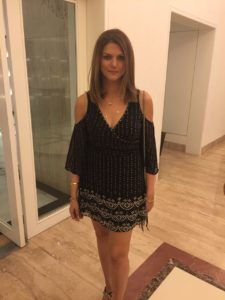 Designer, celebrity stylist, and style influencer, Nandita Mahtani wears may hats. Her easy chic designs have been spotted on Sushmita Sen, Kajol, and Shilpa Shetty. A regular fixture on celebrity style blogs herself, Mahtani also dabbles in styling and her roster of clients includes Virat Kohli, Bipasha Basu, and Sushant Singh Rajput. This has been an eventful year for the designer, with a showcase at Paris and the launch of a new fast fashion brand. We caught up with her in the midst of Diwali celebrations for a quick chat.
Describe your design aesthetic in a nutshell.
Fluid and feminine. My travel and personal style influences my designs – they are classic yet casual, highlight Indian needlework, and
You showcased your signature SS17 collection in Paris. Tell us more.
It came about when a team from Who's Next (Parisian fashion trade show) liked my work during their India visit and asked me to be part of the event in September this year. I showcased a resortwear collection filled with pastel colours and feminine designs that bring together Western silhouettes with Indian motifs.
Which are your favourite fabrics and techniques?
When it comes to fabrics, I always pick fluid varieties like georgette and chiffon. I also use corsetry and brocade. But I ensure that the embroidery is always a showcase of traditional Indian techniques like badla and chikan.
You also launched your high street brand Love Genration at Amazon India Fashion Week SS17. How did the brand come about?
I have wanted to do something like this for a long time and found my partners in Dolly Sidhwani and Bhavana Pandey. The idea behind Love Genration was to create our own fast fashion brands to live up to international labels. The initial response from the industry and customers has been very encouraging. 
A resortwear trend to keep our eyes on.
The bohemian look will rule the trends charts. Expect couture designs, big prints, and a bold spin on feminine boho-chic.
Which city would you consider the most stylish?
London. Whether it is high summer or winter, people make an effort to dress up for each season with flair.
As a celebrity stylist, what is your take on personal styling?
It's a myth that only celebrities need stylists. A lot of people now have stylists on their own—it can be very enjoyable to have someone to help discover your style and double up as a shopping companion.

Three things that every stylish woman must carry while travelling.
Chic track pants and comfortable trainers are mandatory travel picks. I always carry a bomber jacket to ward off any sudden chill.
 If you could dress a fictional character, who would you pick?
Everyone from Alice in Wonderland.
What's next for the Nandita Mahtani label?
Currently, all my time is devoted to Love Genration. There's my own label, styling projects, and I am also dabbling in interiors. I enjoy the excitement of bringing together such varied inspiration in my creative space.
Shop our favourite Love Genration looks
Featured image Nandita Mahtani at India Resortwear Fashion Week. Images courtesy Jamie Dave and Nandita Mahtani