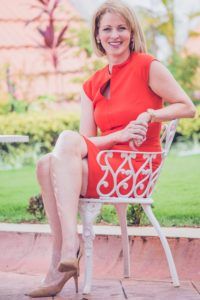 Think British and colours and all things taupe come to mind. Coming from a world of muted shades, Sara Fanning's personal style makes her a rare entity. The chief product officer at Arvind Fashion Brands Ltd spearheads the womenswear collections of Shuffle and PRYM, offering globally trending designs at affordable prices. Her own wardrobe is a reflection of this very cosmopolitan aesthetic. Inviting us into her lovely home in Bangalore, Fanning gave us a glimpse of her closet favourites and eclectic sartorial sensibilities.
How would you describe your personal style?
I'm British and that defines my style greatly. My closet is filled with black and neutrals—most of the time, I'm in grey or black or a combination of the two. I've added colours to my wardrobe since I moved to India eight years ago. It's easier to be fashionable here in Bangalore thanks to the weather and relaxed dress codes.
What dominates your closet?
I wear a lot of dresses—fitted, colour-blocked, and statement ones because I love to party. My wardrobe has a lot of leather, PU, kimono-inspired silhouettes, and fringe. I'm a big Marilyn Monroe fan, and have a lot of her collectibles, from clothes to books. Anything sparkling tempts me—if it isn't in the clothes, I add something from my massive collection of statement jewellery.
How has your style evolved over the years?
Till a few years ago, I'd stick to my staple pieces. Over the last year I've been involved in creating new fashion brands and travelling extensively which has really transformed my look. Most of the outfits in my closet now are new, including a few outfits from Shuffle and Prym, the new brands I've been working on. 
What are the oldest items in your wardrobe?
I worked at Marks & Spencer for a very long time and I have some of their older clothes. There's a gorgeous yellow dress that stopped fitting me a long time ago, but I'm still attached to it.
Tell us about your favourite places to shop.
I love the high street, from British brands like Topshop, Miss Selfridge, and Warehouse or European ones like H&M and Zara. I mix them with my boutiques and vintage picks, like my favourite Monroe-inspired outfits from a store in Berlin. You may have the same high street outfits as others, but teaming them with unusual separates makes a real difference.
Which are your go-to accessories?
Besides my statement necklaces, I have a lot of shoes. Many of my embellished shoes are from India and the basics from Europe. I recently bought a pair from China that I can't stop wearing. Also on my list of favourites right now is a jewelled yellow bag from Paris–it's an objet d'art in its own right.
Who are your favourite designers?
I'm not really into designer clothes. I have few pieces–there's a BCBG leather jacket I love to wear and a dress from the label. I've a beautiful Stella McCartney Falabella bag—I don't use it often, but I love it for its fiery red hue.
Is there a look you find hard to flaunt?
I'd love to wear a hot pink, but you won't find me wearing a lot of bright colours. I've a crop top from Topshop that I don't quite felt ready to wear yet. It has been in my wardrobe for six months; I'm sure I will wear it one day.
What is your failsafe style?
There's a lot of black in my wardrobe. I've scaled it down over the years, but the good thing is if all else fails, I still have a basic black dress to save the day.
Do you wear Indian clothes?
Of course, I love Indianwear—the sparklier, the better. My wedding sari is a rich purple silk with a hint of sequin; I recently picked up a white anarkali with silver gota work from an exhibition that I can't wait to wear.