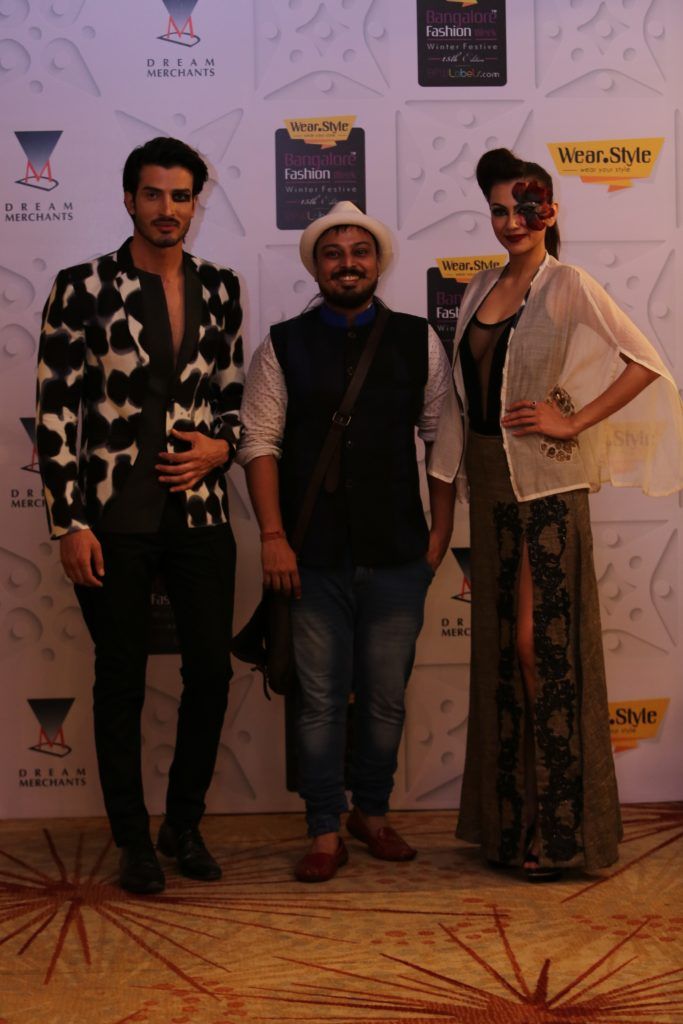 Fall winter? There's almost no such thing in India. Fashion weeks in the country prefer winter-festive tag, in keeping with the festivals and weddings that dominate the months. Unsurprisingly, the fashion shows are a mixed bag of bridal and party ensembles. In the midst of excess sparkle, Kolkata-based designer Abhishek Dutta takes an unexpected approach for his line.
Showcased at Bangalore Fashion Week, Dutta's design had a bleak, graphic perspective. "I've always been inspired by the future, and this collection is a dark take on times to come. A sense of catastrophe—death—and the new life that grows out of it, that's the concept behind the collection." Morbid as the premise may be, the collection showcases edgy-meets-easy separates and fusion ensembles in graphic patterns and black, blue, and brown, with metallic accents.
Focusing on eco-friendly fabrics, most of the fabrics used are hand-woven varieties including chanderi, jamdani, and linen. "We used tie-dye print and embroidery in a contemporary way. For instance, I burnt some of the fabrics and embroidery for an uneven and vintage effect." The standout motif was the heart, not in its popular form but in its original version, complete with arteries and veins. Our picks: Tie-dye bandhgala with Jodhpur pants and an asymmetrical skull-embellished monochromatic dress.
The collection also serves as a curtain raiser for Dutta's forthcoming projects. "Part of it is derived from my initiatives with the government and crafts clusters. I've been working with 300 weavers, introducing them to new techniques and innovations in textiles." The association is also slated to lead to a collaborative branding between Dutta and Tantuja, a handloom and handicrafts undertaking by the West Bengal Government. "We will launch 10 stores with a futuristic perspective on traditional textiles." On the cards, linen denim that we are sure will be a blessing for summer. We can't wait to see what Dutta has in store!
Images Courtesy Abhishek Dutta; Bangalore Fashion Week