Butterflies, fireworks and rainbows. A first date brings with it a range of different emotions. The pressure to impress and navigate through the do's and don'ts of a first date can prove to be daunting for the best of us. A last minute wardrobe malfunction is the last thing you'd want to deal with. Which is why dressing the part is of the utmost importance. How you choose to dress not only reflects your personality but also your attitude.
Beat those pre-date jitters with our failsafe tips to confident and fabulous dressing.
WOMEN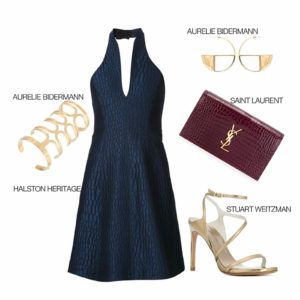 This dress is the perfect balance of sensual and graceful. There's no need for a necklace or intense makeup with a dress this great. Keep your accessories minimal and stark. Add a spring to your step with strappy sandals. Shop: Halston Heritage Dress;



 Stuart Weitzman Sandals;



Aurelie Bidermann Bracelet;



Saint Laurent Clutch;



;] Aurelie Bidermann Earrings



; 
Ruffles, florals, peplums classic design elements are back in style, and how? Take these time-tested date ready designs and incorporate them in shapes that are lean, geometric, and exaggerated. Shop: Lanvin Top



; Philipp Plein Jeans;



Dolce & Gabbana Earrings;



Dolce & Gabbana Bracelet



; Marc Jacobs Sandals



; Alexander McQueen Clutch



Men
Don't confuse dapper with overdoing it. Every dude's going to be wearing a shirt and jacket, so why not stand out in more sophisticated avatar with a mix of semi-formal and casual pieces. Shop: Givenchy blazer;



Fendi Shirt;



Brunello Cucinelli Jeans;



Henderson Baracco Shoes



; Nixon 'Chrono' Watch



; Mykita 'Jolan' Sunglasses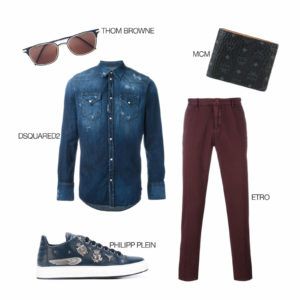 Planning a more laidback affair for the first time? Invest in your trusty denim but not without a hint of eclecticism to finish the look. Shop: Dsquared2 Denim Shirt



; Etro Chinos



; Philipp Plein Sneakers;



MCM Wallet;



Thom Browne Sunglasses



Keep in mind that looking good is as important as feeling good. Now that we've got you covered, acing your first rendezvous should be as easy as shooting fish in a barrel.
Shop date-appropriate looks for men and women on elanstreet.