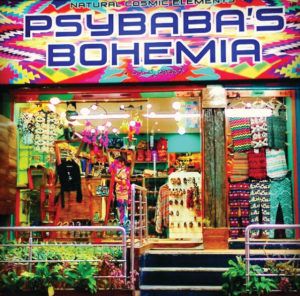 It is difficult to glance into Psybaba's and ignore it. In addition to the intriguing name, a colourful display of dream catchers and shibori print garments make this spot look like a bohemian paradise. But the shop window is just a teaser of the explosion of colours inside. Tiny the store maybe, this chic boutique is a ticket to travel back in time to the hippie movement. Or Coachella.
Tucked away in a lane next to Garuda Mall, Psybaba's is Saher and Tanya's labour of love. When we dropped in, Saher was busy working on a new order, but took the time to show us around his tiny but incredibly well-stocked store. Thoughtfully curated to suit the founders' bohemian, tribal-inspired sensibility, the display here is a feast for all your senses.
Street Loves: This store will spoil you with its assortment of patterns and colours. From Aztec prints and tie–and-dyes to stone washes and intricate embellishments, it's a treasure trove of a store. But this isn't just about clothes at Psybaba's. You will also find drool-worthy jewellery, shoes and bags, décor items, and other knick knacks crafted in-house or sourced from artisans across the country.
Stylist Picks: Amongst a host of collectibles, our favourites are their leather products handmade in a workshop attached to the store. Think watches with creative leather straps, fringed footwears, bags, and stationery, all boasting an artisanal quality. The pieces are limited edition, and you can also place order for bespoke leather products.
Whether you are looking for a trinket or a new travel wardrobe, make your way to this lovely store. You will not leave empty-handed!
Psybaba's is located at  29, Magrath Rd, Stage 1, Ashok Nagar, Bangalore, 560025. Call: 098865 27782 and check their Facebook page for more details.
Avail of personal shopping services in Bangalore or a curated package from the city's best stores hand-picked by stylists.