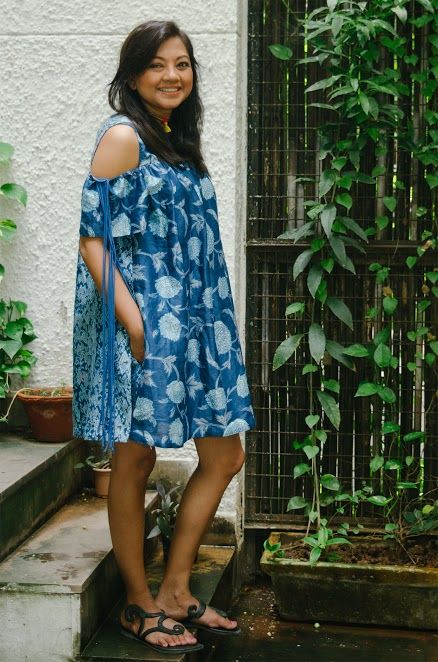 The queen of easy chic, Anupama Dayal personifies free-spiritedness. A veteran design, she doesn't merely clothe women but seeks to liberate their minds and bodies through the act of dressing up.  In a conversation with her, we uncover the thoughts behind her beautiful new collection, showcased at Amazon India Fashion Week SS17, and pry a little into her personal favourites.
What was your inspiration behind Pirates of Calcutta?
I have always been drawn to multiculturalism, and port cities are an attractive melting pot of cultures.  Being from Calcutta (now Kolkata), I have heard many stories of maritime Calcutta and its thriving trade. I focused on one such item of trade, the blue and white ceramic vase which inspired most of the outfits.
What inspires Anupamaa's brand philosophy?
I like making women feel happy. People are always adding to the baggage we already carry. Hence I want to make women feel easy. That is the underlying philosophy of the brand, "to set women free". My garments are very light and breezy which also makes for good travel wear (these clothes weigh next to nothing). My outfits make women sexy yet undemanding in any way.
What makes Anupamaa a truly global brand?
It is rooted in Indian thought, but wearable anywhere around the world. We sell in about 20 countries. It is worn by locals everywhere and styled very differently, each women reinterpreting the garment her own way and making it her own.
Tell us about your favourite trends of the moment.
A lot of layering is back. Personally, I have been wearing shirts in different ways, sometimes wearing them on one shoulder and tying the rest around my waist. Styling shirts and over shirts in various ways is the key trend this season.
Who are some designers that you admire?
I think Sabyasachi is an absolute legend. I love Vivienne Westwood's attitude. It is not just about brands, I admire the thought process behind them—Prada and Chanel have an intention of setting women free and hence, I respect them.
A style icon you would like to dress.
I would love to dress Michelle Obama and Shabana Azmi. I admire intelligent women who are forthcoming and kickass in their unique way.
What is the way forward for brand Anupamaa?
We have just launched Anupama Man. I also have a jewellery line—Anupamaa Accessories; Anupamaa Homes, an interior design brand; and Anupamaa Indian which is primarily Indian wear. In having so many sub-labels under the mother brand, we hope to involve as many people as possible in this celebratory universe and have a great time staying light and happy.
Images courtesy Anupama Dayal